"This job demands a certain degree of patience, doesn't it?"

This article or section contains information about unreleased media.
Please don't add speculation to this article and try to provide a source for any information.
Horizon Forbidden West is an upcoming video game developed by Guerrilla Games and published by Sony Computer Entertainment for the PlayStation 4 and PlayStation 5. The game is scheduled for a release on February 18, 2022.[1] It was officially revealed during Sony's The Future of Gaming reveal event for the PlayStation 5, and is a sequel to Horizon Zero Dawn.
Synopsis
Horizon Forbidden West continues the story of Aloy half a year later after the event of the Zero Dawn, a young huntress of the Nora tribe sent on a quest to a mysterious frontier spanning Utah to the Pacific coast to find the source of a mysterious plague that kills all it infects. On her journey across the uncharted lands of the Forbidden West, she encounters hostile regions filled with natural threats and ravaged by massive storms, dangerous enemies and deadly machines, both new and old. As Aloy attempts to explore the wider and deeper parts of the Forbidden West, she discovers a vast array of diverse environmental ecosystems, including lush valleys, dry deserts, snowy mountains, tropical beaches and ruined cities, both above and below the water.[3]
"The land is dying. Vicious storms and an unstoppable blight ravage the scattered remnants of humanity, while fearsome new machines prowl their borders. Life on Earth is hurtling towards another extinction, and no one knows why. It's up to Aloy to uncover the secrets behind these threats and restore order and balance to the world. Along the way, she must reunite with old friends, forge alliances with warring new factions and unravel the legacy of the ancient past – all the while trying to stay one step ahead of a seemingly undefeatable new enemy. Uncover the secret behind Earth's imminent collapse and unlock a hidden chapter in the ancient past... one that will change Aloy forever."[4]
Gameplay
Players are able to explore wider and deeper into a bigger map compared to the previous game.
Underwater exploration is a new element that allows players to uncover the mysteries beneath the surface of seas, lakes and rivers.[5]
Engage in strategic battles against enormous machines and mounted human enemies by using weapons, gear and traps crafted from salvaged parts.[4]
A new weapon system will allow players to upgrade their weapons at a workbench,[6] while outfits now give Aloy access to new outfit-specific skills.
Machines
Horizon Forbidden West will feature a menagerie of familiar and new machines. Currently, 11 machines have been confirmed to make an appearance, six of which are new to the Forbidden West.
New machines
Unnamed Plesiosaur-like Machine (visible in one of the state-of-play waiting landscapes)
Confirmed returning machines
Characters
Currently, 4 named characters have been confirmed to make an appearance in Horizon Forbidden West, all of which are returning characters from Horizon Zero Dawn.
Setting
Set in an open world of post-apocalyptic California, Utah and Nevada, the game will explore the setting of a mysterious location known as the Forbidden West.[9] The game will feature a multitude of iconic locations including a ruined San Francisco and the Yosemite Valley with various biomes.[10]
Trivia
The setting of Horizon Forbidden West, the Forbidden West, was alluded to multiple times throughout Horizon Zero Dawn. Rumors of the region's more dangerous machines and mysterious tribes were repeatedly mentioned, serving as a hint to the location of the next game.
For the PlayStation 5 version, the game will take advantage of the console's increased processing power, custom solid state drive storage, Tempest Engine and Dualsense controller to support features such as advanced haptic feedback, 3D spatial audio and reduced loading times, enhancing the player immersion experience.[11][12]
The game will feature enhanced melee combat, revamped climbing mechanics and improved traversal options over the original game with the addition of the Valor Surge system, freeform climbing and tools such as the Shieldwing, Focus Scanner, Diving Mask and Pullcaster.[14]
The game's special edition comes with a SteelBook display case, mini art book, and digital soundtrack.[15]
Special Editions
Regalla Edition
Contents
Regalla Tremortusk and Aloy statues
Replica Focus
Focus stand
Two art cards
Clawstrider Machine Strike piece
Sunwing Machine Strike piece
Steelbook display case
Mini art book
Digital soundtrack
Horizon Zero Dawn Vol. 1: The Sunhawk digital comic book
Photo mode unlocks (special pose and face paint)
Bonuses
Carja Behemoth Elite outfit
Carja Behemoth Short Bow
Nora Thunder Elite outfit
Nora Thunder Sling
Carja Behemoth Elite outfit
Carja Behemoth Short Bow
Nora Thunder Elite outfit
Nora Thunder Sling
Apex Clawstrider Machine Strike piece
Resources pack
Collector's Edition
Contents
Horizon Forbidden West PS4/PS4 game(digital)
Tremortusk and Aloy statues
Steelbook display case
Mini art book
Digital soundtrack
Horizon Zero Dawn Vol. 1: The Sunhawk digital comic book
Photo mode unlocks (special pose and face paint)
Bonuses
Carja Behemoth Elite outfit
Carja Behemoth Short Bow
Nora Thunder Elite outfit
Nora Thunder Sling
Apex Clawstrider Machine Strike piece
Resources pack
Special Edition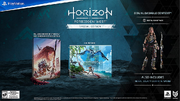 Contents
Horizon Forbidden West PS4/PS4 game(digital)
Tremortusk and Aloy statues
Steelbook display case
Mini art book
Digital soundtrack
Horizon Zero Dawn Vol. 1: The Sunhawk digital comic book
Photo mode unlocks (special pose and face paint)
Bonuses
Carja Behemoth Elite outfit
Carja Behemoth Short Bow
Nora Thunder Elite outfit
Nora Thunder Sling
Apex Clawstrider Machine Strike piece
Resources pack [16]
Gallery
Images
Videos
References