Cauldron ZETA is an activity in Horizon Zero Dawn. It is a HEPHAESTUS facility that manufactures machines for use in terraforming.
Description
ZETA's entryway differs from other Cauldrons in that the primary entrance is sealed and guarded by three Stalkers. The true entrance is above and to the left, guarded by a single Redeye Watcher. Around the primary entrance there will be many red flare alarm signals which will alarm the Stalkers, if you happened to walk in vicinity of those signals. Once tripped, all three Stalkers will converge on the tripped alarm signal position.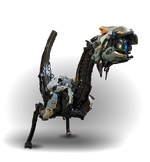 The interior is similar to other Cauldrons, but lacks any sort of puzzle or enemies until you reach the core. The core will house a Thunderjaw being assembled, with two active Watchers guarding it. The Thunderjaw will attack upon being released by an override to the facility's central processor. Simply climb an energy emission tower and override it.
The interior is littered with pyramid-shaped supply crates which contained many resources. There are also many Medicinal Grey Omen scattered around the interior.
ZETA Overrides
Collectables
The following datapoints are obtained automatically during this quest and cannot be missed.
Text Datapoints - Machine
Trivia
In its corresponding datapoint, this Cauldron is referred to as Cauldron THETA.
Gallery